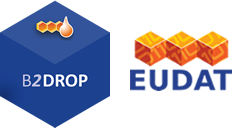 B2DROP documentation#
Service Description#
B2DROP is a low-barrier, user-friendly and trustworthy storage environment which allows users to synchronise their active data across different desktops and to easily share this data with peers. EUDAT offers a free public basic instance for any researcher. For communities and organisations a premium service is offered on the public instance. Communities and organisations can also request customised instances.
Features#
Default quota of 20GBs (Basic), high quotas optional (Premium)
Access via Web GUI, desktop clients and Webdav
Multiple versions of files are kept
Enabled apps: Contacts, Calendar, Tasks, Circles (social communities)
Sharing within B2DROP, across different instances (via OCM-API) and via links
Publishing of datasets to B2SHARE
Integration with CLARIN Language Resource Switchboard (Basic)
Integration with other community services optional (Premium)
Group management (Premium)
Colabora (Premium)
Additional Information#
Info
B2DROP is based on Nextcloud software. Please read the Nextcloud manuals for specific information. Information from the Nextcloud manuals are not repeated here.
* admin manual: deployment, basic configuration and operation of the service

* user manual: basis usage of the software

Target Audience#
This documentation is targeted at system administrators and technical people operating an instance of the service.
Users should use the shared nextcloud manual and the B2DROP manual in their account.
Contact#
Please contact us if you are missing any content or if you have general comments.