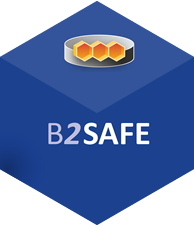 B2SAFE Documentation#
Service Descripion#
B2SAFE is a robust, safe and highly available service which allows community and departmental repositories to implement data management policies on their research data across different geographical and administrative domains in a trustworthy manner.
B2SAFE is a way to distribute and store large volumes of data for a long-term to those sites which are providing powerful data processing, analysis and data access facilities. The service operates on the domain of registered data: data objects are made referencable via globally unique persistent identifiers which are managed by the corresponding administrative domains.
The characteristics of the B2SAFE service are defined by auditable policies which are specified for each data project (data collections to be managed in behalf of a project responsible). Each data project defines a B2SAFE instance which comprises at least one data ingest node (EUDAT node/site) and multiple data nodes for the replicas. The policies control the data flow, i.e. select the data source node and the target nodes, the mechanism for data integrity verification and they can specify the required level of service to be provided by the selected data nodes.
The data can be transferred from external resources to B2SAFE storage resources with different methods and via different channels. Currently iRODS is used at the EUDAT sites for the federation of the data nodes and the node-wise policy enforcement. Each data project can have own requirements depending on the data volume and granularity, the required network bandwidth, the reliability and the security of the network connections. Project-specific requirements on data transfer rates and data-access latencies determine the choice of the proper storage, compute service and network resources
Features#
Data management and long term preservation
PID registration
Rule oriented database
Supports data staging and replication
Support for EUDAT B2SAFE local accounts
Support for local site authentication
Target Audience#
This documentation is targeted at system administrators and technical people working on the local B2SAFE + iRODS installation and community managers who are deploying data management tools.
Contact#
Please contact us if you are missing any content or if you have general comments.